Politics and Insights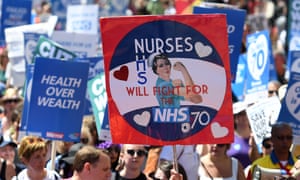 People march through London yesterday to mark 70 years of the NHS.
Gatekeeping has become a watchword within our public services over the past seven years. It's being driven by the government's deep affection for neoliberal dogma, the drive for never-ending 'efficiency savings' and the Conservatives' lean, mean austerity machine. Perish the thought that the public may actually need to use the public services that they have funded through their contributions to the Treasury, in good faith. 
In the NHS, even the resource gatekeepers have gatekeepers, those receptionists standing sentry at the end of the telephone, and in general practices, who ration access to the GPs so assiduously we patients often get better before we've managed to arrange an appointment. Or ended up at an Accident and Emergency Department.
Only a service dedicated to keeping the public and service providers apart could have devised a system so utterly demeaning. It…
View original post 1,999 more words